8th Grade Day 23′
Upcoming freshmen were introduced to the World's Greatest High School by our Link Crew members for the 2023-2024 school year. Eighth grade day was held on Feb. 22 and it was a way for the new students to prepare for the next four years by exploring the campus and learning about our high school. 
"It was cool to see what different departments, like Ag and JROTC, offer and the classes they have," says Isaiah Green, sophomore. 
To kick off 8th-grade day, all of the elementary schools gathered in the North Gym and were greeted by rally commissioners, Elias Ramirez and Ricky Langenfeld, principal Mr. Rangel, vice principal Mrs. Vasche, and link crew advisor, Morty. Then, the students separated into their groups and met with their Link Crew leaders for the day. 
"They're great kids. They're very fun and talkative. I think they're a little scared of high school and what it's gonna be," says sophomore Mina Armanious. 
The groups dispersed into three different sessions; the North Gym, Ag, and JROTC. "It was really interactive," states Armanious. In the North Gym, Mrs. Pendleton and Mr. Wright talked about Superfan. They played a short game for any incoming freshmen that had the Superfan app. Mr. Mayfield then gave a short speech about APHUG, encouraging students to push themselves. Then, Mr. Poole talked about the medical pathway and where that could take someone career wise. Mr. Felver showed off his band and choir, finishing with the Ripon High Hymn. 
While in Ag, the students were introduced to the workshop and what FFA is involved in. Students were told about the Ag events and students were able to ask questions after. Their interactive experience showed what incoming students would get to participate in if they took those classes. Green states, "When we were in the Ag department, a kid asked 'do you raise the pigs in the wild?' That was really funny."
In JROTC, a presentation was held to discuss what to expect. The drill team did a performance with their fake rifles and taught 8th graders how to spin the guns, too. In the extra time, the JROTC students taught Link Crew members how to do it as well. "My JROTC experience was pretty cool because I got to flip the gun," Green says. "The drone was pretty cool, too. JROTC was pretty interesting."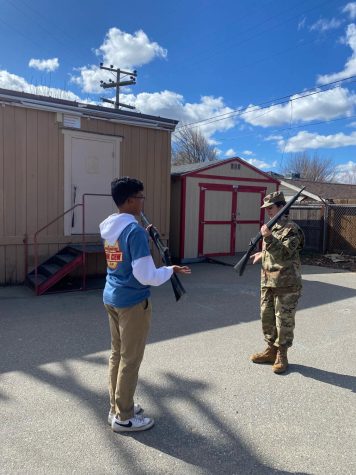 The students were given a chance to ask any questions about this program and a particular student had something they were extremely curious about. "When we were in JROTC, someone asked the Colonel if anyone had ever gotten shot doing drill team," says sophomore Keira Smith. "Then, everyone was silent and didn't speak. It was hilarious." 
After the activities, students got to enjoy BBQ for lunch that was provided by FFA and Mr. B. During lunch, there was a mini club rush that consisted of Esports, Girls League, Multicultural Club, Speech & Debate, and CSF. This gave 8th graders an opportunity to look at clubs that they may be interested in for the upcoming school year. As the day neared its end, all the groups gathered into the North Gym to play a Kahoot to test what they have learned about throughout the day. Group 18 won the Kahoot and both students and the Link Crew leaders received a bag of candy as their prize. Unfortunately, the 8th graders had to depart back to their elementary schools once the festivities came to an end. 
"[I enjoyed] seeing all the link crew leaders take leadership and connect with these young kids," says junior Alizeh Ali. "It was very nice to see that we had so many people wearing our shirts and wanting to be helpful for our incoming freshmen." 
We can't wait to welcome the class of 2027 in the upcoming school year!