Tearing Up the Tennis Courts
     On Monday, April 4, the RHS Varsity Tennis team took an outstanding victory at an away game against Livingston. The final score was 7-2, with the two games that were lost being forfeited due to an insufficient amount of male players to compose a boys doubles #1 team. 
     "This season, we have some really good players on the guy's team, however, we do not have enough players, so we have been forfeiting two matches since we do not have enough guys so a goal that I have for this year is to find more players to recruit for the team," stated Gideon Waters, junior.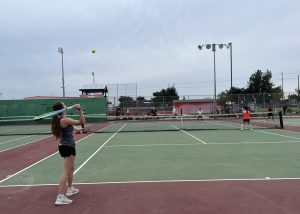 On Tuesday, April 5, the Varsity tennis team battled Hughson for the win, but sadly lost. The final score was 4-3 with Hughson being the champions. However, the JV tennis team played incredibly well and finished strong with a score of 7-2 and proved their expertise.
     On Thursday, April 6, the JV team was scheduled to have a match against Riverbank, but it was unfortunately cancelled. The Varsity team was still able to continue with their scheduled match and fought an extremely tough opponent. The ending score of the games were 2-7, with boys #1 and #2 singles taking home the win and making Ripon High proud. Each school played skillfully, but Riverbank won the majority of the matches. As of now, the Varsity Tennis team's overall score in the league is 3-6. 
     "I'm proud of playing singles for the first time and winning, because I stepped outside of my comfort zone and played the singles match, which I was scared to do, but I did it and overcame my fears," States Amanda Veltkamp, senior.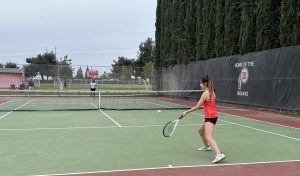 The tennis season has absolutely flown by, with there only being one last match scheduled for April 18 at home against Escalon, which is undoubtedly RHS's toughest opponent as well as rival. After that final match, the team will participate in the TVL Tennis tournament on April 21-22 at Riverbank High. This year, RHS has some incredibly talented athletes on the court, so don't forget to come and show your support on April 18 at home against Escalon!