April Staff A.C.E. of the Month
Laila Irigoyen, Guest Writer
May 13, 2019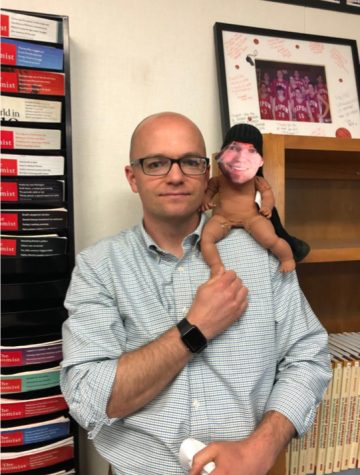 Every month, Ripon High joins together to vote for ACE of the Month. The student body, and staff, nominates someone they believe represents being an Academic Achiever, Community Contributor, and Effective Communicator. ACE of the Month looks for students and staff who possess integrity, a strong work ethic, trustworthiness, and dependability.
Mr. Mayfield, an extremely well-respected teacher on campus, was nominated as this month's Staff ACE of the Month. Mr. Mayfield is most known for his compassion and faith in his students. His hard work and dedication to Ripon High School is undeniable.
When asked how he felt Mayfield sarcastically responded, "When I found out I was ACE of the Month I got…chills, I mean just all the way up from the bottom to the top of my spine. I'm still shivering. Actually this is totally serious, it's fun to be recognized by students for doing anything positive because that is what it's all about. The students. I think we make it about ourselves all too often and I think the more we try to stay student centered the better job were gonna do."
Mayfield focuses on normalizing unescapable failure in his classes and lives by a quote from his favorite show, The Office. "In my classroom there's a poster: Would I rather be feared or loved by my employees? And I apply that to my classroom, would I rather be loved by my students or feared by them? Just like Michael Scott would say it's a little bit of both; I want them to be afraid of how much they love me," Mr. Mayfield joked.
Mr. Mayfield also focuses on many simple ways that make a big difference at Ripon HIgh. He reaches out to students with a simple smile, a TGIMonday, and a reassurance. Ripon High School wouldn't be the same without Mr. Mayfield in it.