Tribe Awards 2022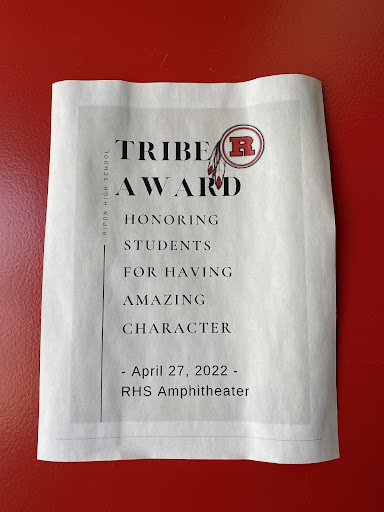 The annual Ripon High Tribe Award ceremony is occurring April 27th from 6-8 in the amphitheater. Students will be recognized for their character and shown appreciation by a teacher on campus.
High school students can be awarded in many ways for their academic achievements but the Tribe Award focuses on something further than how one is doing academically. Each teacher on the RHS campus is able to nominate a student based on their character or just to show appreciation for the friendship that has been built throughout the year or years. One doesn't have to be top in the class or be the president of multiple clubs to be awarded for their impact on a staff member.
"
It came as a shock to me when I found out I was nominated. I thought that I wasn't special enough to be thought of for an award like this, because I wasn't a club leader or the valedictorian. Despite that, I feel very honored to receive this award.
— Nathan Mendoza
The process begins when a teacher is asked to nominate a student. A letter is sent home stating the student has been nominated for the award but the identity of the teacher remains unknown. Then follows the ceremony in which the teachers are asked to talk about the student and state why they had chosen them. This heartwarming and sentimental award gives students who may be academically challenged a chance to be awarded something special.
"When I found out I was being nominated I was really excited and I thought it was really cool that I had been chosen out of so many other people," described freshman Tribe Award nominee, Starla Skiles.
This award gives another perspective to students at RHS to look at. Teachers don't just notice and want to recognize academic achievements but also notice one's character and their charisma.
"I hope to see the students on campus that make a true impact on people here at the world's greatest high school," stated junior Tribe Award nominee, Heaven Elisary.
[sno-poll id="13948″ result_color="#bf0d0d" tile_color="#ffffff" align="left" background="on" background_color="#ffffff" border="all" border_color="#888888″ border_size="5px" shadow="on"]