Spotlight on Jenna Skavdahl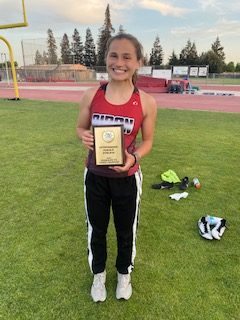 The outstanding female athlete award is given to one of our fellow athletes to represent the hard work they have been putting into their sport. This year it was given to Jenna Skavdaul on our Track Senior Night on 27 April.
"Leading up to this award I've been practicing a lot. I've been working really hard so that I can compete well this week. I think just keeping a positive attitude for this week really helped me prepare well to get this award," said Jenna Skavdahl. 
In track, Jenna runs the 4×400, 1600, 800, and 400. Jenna is very close to beating the school record for the 400, she is only 1 second away from this. Every meet, Jenna is very determined to try to beat this school record and hopes that she will be able to do so in the league.
"I think that yes, getting this award makes all my work worth doing. I think honestly just getting to go to track meets makes it all worth it. But this award is just something extra that made it much more fun. Getting this award really brought out the feeling of feeling appreciated. And lots of happiness and lots of laughter from the meet," said Jenna.
Winning this award was very important to Jenna because she has been running both cross country and track. Jenna has been putting in the effort in every single race that she has been a part of. She has a determination that you don't see in many anymore, and she always has the drive to keep going, no matter how tired she is or how badly she wants to quit. These qualities found in her made her the perfect person to be chosen for this great award. 
[sno-poll id="13998″ result_color="#bf0d0d" tile_color="#ffffff" align="left" background="on" background_color="#ffffff" border="all" border_color="#888888″ border_size="5px" shadow="on"]"I honestly felt really surprised when they called my name because I wasn't expecting it. I feel really honored and really happy because I heard the whole team started clapping and cheering for me. I think I try my best to place high in all events so I am happy to see my hard work get recognized," stated Jenna. 
The outstanding female athlete award is given to the female by the coaches that think that they deserve it the most out of any JV player. This year Jenna was honored to be chosen out of her teammates, and she thanks everyone who had a part in getting her to where she is today.