Cross Country is Running Summer Sports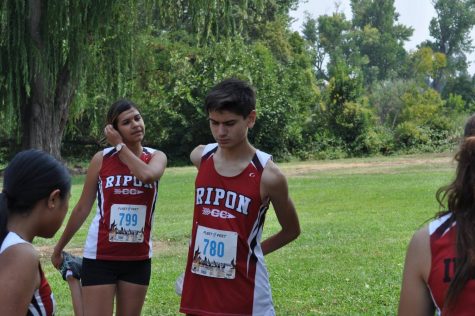 The school year is off to a racing start and so is the cross country team.  While there has been a pretty large presence at volleyball and football games by students, staff, and parents alike, there is one sport that doesn't necessarily have a huge audience.  However, athletes could argue that it may be the toughest to endure: cross country.
The sport itself can be proven challenging, considering that it requires both physical and mental toughness.  On top of the running, August is a month of high temperatures that can make running miles a day a bit more difficult.
With fires raging in California and smoke in the air, running after school everyday isn't the easiest task to complete.  Training in these conditions all comes down to the proper mindset.
"The heat is all mental and minimal physical.  To take on [the] heat it is all about your mindset," sophomore Bennie Dimas said, "if you always say to yourself 'I can't run in the heat, it's too hot', you'll never be able to run through it.  But if you find a way to block out the negative effects of the heat, it'll seem like a normal run and it won't affect you."
"
Running with your peers helps a lot because they always motivate you and you motivate them. You learn to cooperate with one another and I've made really great friends running."
— Craig Valdez
Staying positive is crucial for the cross country runners, especially with meets coming up very soon.
"You just have to get used to the heat and remember it's not about winning or losing.  It's about improving yourself," senior Connie Park said.
Along with having a good mentality and attitudes, it's very important that the runners prepare themselves throughout the day.
"I drink at least three bottles of water so as to not feel so bad in the heat,"  junior Zaahir Zaro said.
Staying hydrated is one of the most important parts of being an athlete, and it's also vital that they maintain healthy lifestyles as well.
"You need to eat, too.  No Pizza Plus or whatever because I always want to eat whatever," sophomore Gabriel Herrera said, "but I really have to remember I'm gonna run eight miles soon."
Not only does running and pushing through the challenges build the athletes' strength, but it makes them grow closer as a family.
"Running with your peers helps a lot because they always motivate you and you motivate them,"  senior Craig Valdez said, "You learn to cooperate with one another and I've made really great friends running."