United Brings People Together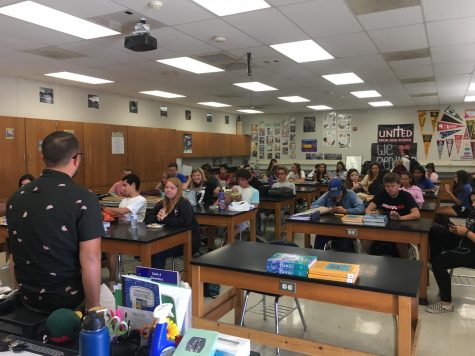 This year, Ripon High had a lot of clubs to offer students.  Students can do anything from joining a club about religion to a club about bugs. The Ripon High United Club is one of the biggest clubs on campus with more than 60 students involved. 
The Ripon High United Club is two clubs that were merged into one last year– The Fellowship of Christian Athletes and the Encouragement Club .
"We combined the two clubs together because they both were doing basically the same thing. Mr. Mayfield came up with the idea to do it because it seemed pretty logical to combine them," said a club advisor, Ann Pendleton.
"
The United Club is different than any other club. It offers things that other clubs don't."
— Thomas Mulder
The club is open to all people, and often has guest speakers that come in and share their stories. Their stories can inspire others to do different things.
"We have people come in to speak because they can teach and share about certain topics that are relevant to teenagers," Pendleton stated.
United is a fun club that doesn't focus only on religion. The club also makes a great opportunity to make new friends, and events are often held so people can play games and have fun together.
"Last year, we held a concert, and we hope to do another this year. After the Modesto Christian football game, we hope to get a lot of kids coming out to have fun at Ripon Grace Church at another event in which we are participating," said Pendleton.
There are many reasons someone would join the United Club. Students have to opportunity to learn about what the Bible says about how Christians should live their lives and to socialize with others during the meetings. Meetings are every Tuesday during lunch and students are encouraged to attend whenever they can.
"The United Club is different than any other club," Thomas Mulder, a leader of the club said. "It offers things that other clubs don't."