January Staff A.C.E. of the Month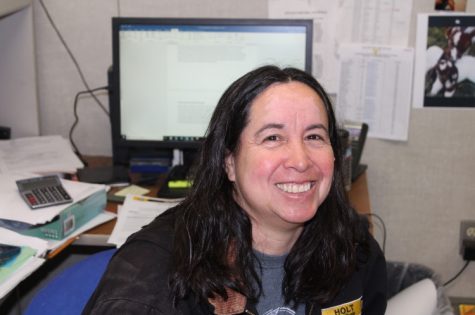 Short for Academic Achiever, Community Contributor, and Effective Communicator, the A.C.E. of the Month is an honor awarded to one individual from both the Ripon High student body and staff. These individuals that are chosen by the students and staff possess a strong work ethic, integrity, dependability, and trustworthiness.
Mrs. Johns, one of the FFA Agriculture and Shop teachers on campus has been nominated for the January Staff A.C.E. of the Month. Due to a very busy work schedule, Ripon FFA Chapter Reporter Macie McPeak was interviewed so that we can learn more about Mrs. Johns's impact on Ripon High.
"I've known Mrs. Johns since a little bit before my freshman year of high school," McPeak shares.
"Johns does so much outside of just FFA, including things that she doesn't even have to do like grants. She doesn't just help the chapter, she helps other communities which is a really big responsibility that she takes up and I really respect her for that."
Students and staff who nominated her said that she is hard working, wants the best for others, and is honest.
"She is a community contributor and an effective communicator. She helps the community a lot because she organizes different aspects of community things that FFA does such as Cows, Carbs, & Cocktails. She's very effective with everything she does, everything has a purpose and she puts 100 percent into everything she does, which is very admirable," McPeak explains.
"To me, Mrs. Johns' impact is on every student individually which helps impact the school itself. She taught me that you can work for something if you put in the dedication and hard work that it will happen. I recently won a first place award in a speaking competition called "Impromptu" which was a very important part of [moving on in FFA leadership] and Mrs. Johns was my coach. Her saying 'don't give up', 'keep on doing research', and 'I believe in you' really helps me personally. The fact that she coaches other teams such as the small engines team and diesel team really makes an impact on our lives."