The Road to a TVL Title
The turning moment of the season which eventually led to a 3 peat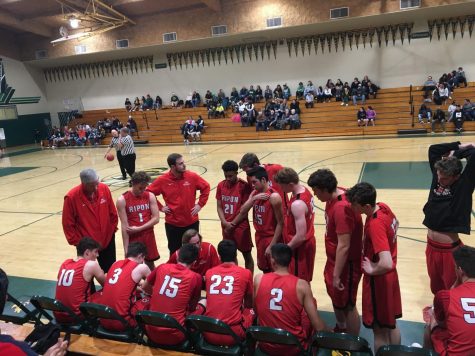 Ripon boys' basketball took home the TVL title and made it to the semifinals during playoffs- but those accomplishments did not come without a cost. Winning league seemed pretty attainable as the Indians were 16-0 in league and have been dominant the past two years with back-to-back titles.
That was until the night of the first cross-town rivalry game at home versus Ripon Christian. The Indians couldn't manage to pull ahead in the last half of the game, resulting in a 48-54 defeat.
"When we lost to them [Ripon Christian] the first time, I think that kind of hurt our souls and put our season into perspective," first-year head coach Justin Graham said.
The loss inspired and motivated the athletes to step up and fix the mistakes they had made and improve their game before the next matchup. The game had really been a wake-up call for the Indians.
"We can be beat by teams in our league, we can lose. We're not this untouchable team. We can't just show up and win games. We have to go out there and earn it," Graham said, "so I think from that point forward, we started playing like we have something to prove."
At this point in the season, it became pretty likely that Ripon High might have to share the TVL title with Ripon Christian.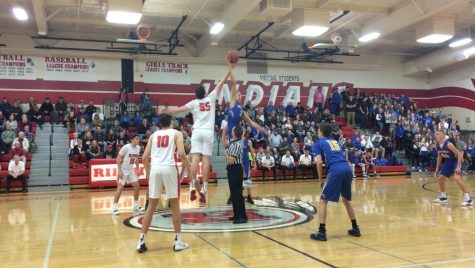 That all changed when RC lost to Riverbank on February 5 when they suffered a 50-76 loss versus Riverbank.
"We saw that they had lost to Riverbank and it was a second chance, you know? It was an opportunity to take care of business and take this [TVL championship] for us. It was an important moment for us," Graham said.
This was proven to be not-so-easy, as two of Ripon's key senior athletes, forward Baz Cheema and center Vincent Olmo suffered injuries.
"I was scared as soon as I got injured because I thought I had dislocated my kneecap again. I immediately thought about what I needed to do to get myself ready for the next game and was hoping my season wasn't over," Olmo said, "luckily I was able to play through the injury and the pain without missing a game."
These injuries called for new leadership on the team and for some players to have to step up.
"I think when Baz went down, obviously Baz had been playing out of his mind, some of the best basketball he'd been playing, ever," Graham said, "so it was a little bit of a blow for us. But I felt like we had a lot of guys who could play, and who could pick up the slack a little bit. And we did. We had some of our best offensive outputs after Baz got hurt."
Junior Dorian Dougherty had an excellent second half of the season and improved every game he played in, becoming a key player for the Indians. Danny Hernandez also stepped up and upped his game, along with the team as a whole.
"When they got injured [Cheema and Olmo], since they were two of our star players, the team had to work more as a whole and as a collective group to find ways to win," Dougherty said.
The team's hard work and adaptations to the situations they were in gave them their third TVL title when they had an explosive game versus Ripon Christian at their house.
Ripon Indians then moved on to playoffs, where they made it to the third round of sections after defeating Amador (85-64) and Mountain House (79-58). They then lost to Liberty Ranch (51-72). The boys were qualified for state and were defeated by University Prep, only a 4 point loss, with a score of 42-46.
After the season ended, various Ripon hoopers have been acknowledged for their successful seasons. Senior Vincent Olmo was named All-TVL Most Valuable Player for the second year in a row. Senior Baz Cheema and juniors Nico Ilardi and Troy Brogan were named TVL first team, and honorable mention went to senior Adam Wood. (Manteca Bulletin)
"What was special was seeing everyone grow from last year, seeing the ups and downs we went through this year and how resilient this group is," Olmo said, "this team is very special."