Starting Off the School Year with Pride!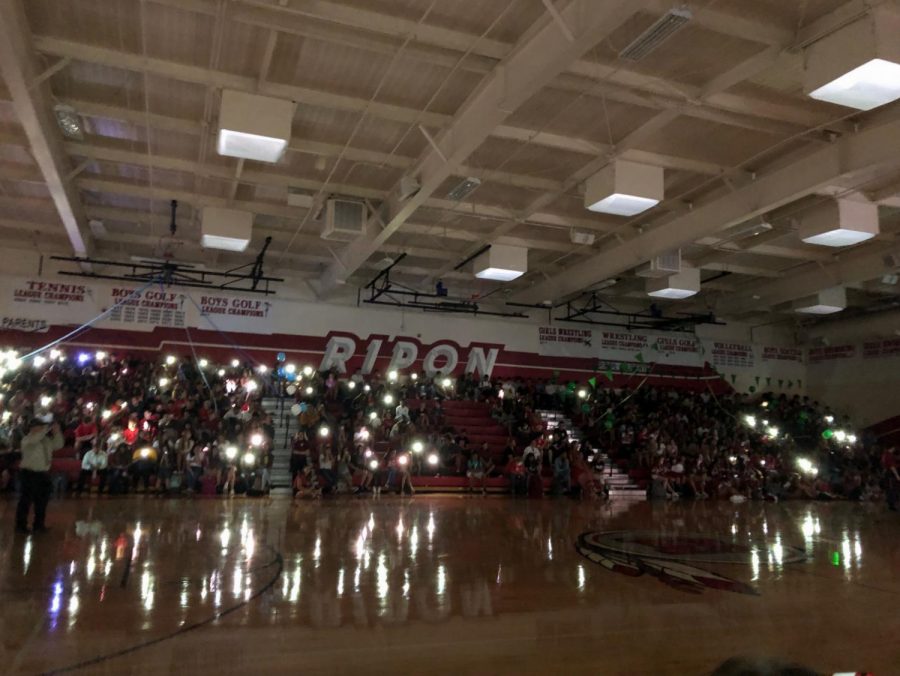 Coming back to high school is usually hard to get used to from waking up early to having less free time because of homework. There is one thing many students look forward to. That is the back to school rally. This year it occurred on the first Friday of the school year on Aug. 16.
The rally was only an hour long, but full with many activities and even voting on the homecoming theme which is Ripon High on a Road Trip. Upcoming events include plenty of dress up days to show our Ripon pride. The new freshmen got a little taste of how much spirit the school has with the first rally spirit contest, which the Juniors won! 
"Mr. Wright and Mrs. Pendleton definitely made me laugh throughout the rally […] the teachers dancing with ribbons was a perfect touch," senior Angie Cortez said.
Mr. Wright along with Mrs. Pendleton sang The NeverEnding Story from a well known scene in the new hit television series Stranger Things. If you have had Mr. Wright as a teacher, then you would know he is not the type of person to be singing in front of the whole school which made it a rally to remember. 
"My favorite part of the rally was seeing the kids have so much energy and spirit when we were waiting for the homecoming announcement," teacher Celeste Morino said.
The high school students waited patiently while awaiting the results of our theme for the 2019 homecoming. While the students were eagerly waiting for their homecoming theme to be announced, the students began to flash their phone flashlights. Eventually, the whole North Gym was full of flashing lights. It was a sight to see for the students to create a moment out of nowhere.
"The rally was definitely had some not expected events that were hilarious," sophomore Anna Boersma said.