New Year, New Renaissance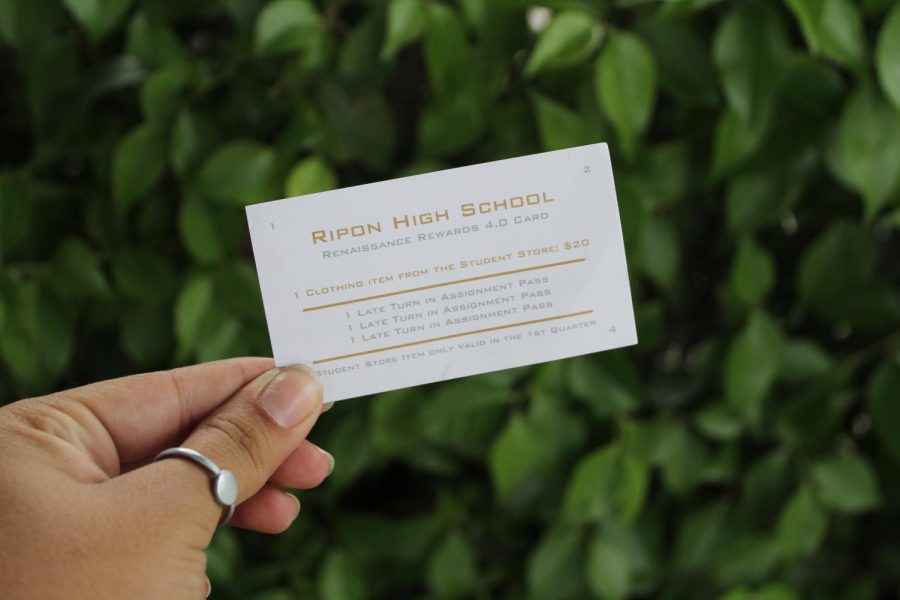 Renaissance is a rewards program offered to students at Ripon High school. The program is offered to students as motivation to get good grades and strive for the best they can when it comes to academics. The program benefits students who succeed academically and maintain a quality GPA. After the end of each quarter, students who signed up are rewarded with various prizes based on their academic status.
Renaissance was founded in 1988 by Jostens. Since then, the program has been apart of Ripon High for many years and adopted many changes throughout. This year, Ripon High is seeing some big, but not unfamiliar changes on this year's renaissance card. 
This year, there are two different cards that students can apply for. For students that apply with a GPA above a 3.0, they will receive the red card. The red card features one ACE ticket and four late turn-in assignment passes per quarter. For students that apply with a GPA above a 4.0, they will receive the gold card. The gold card features three late turn-in assignment passes, along with a new reward each quarter. In the first quarter, you get a free clothing item from the student store, in the  second quarter, a finals pass, in the third quarter, a food reward, and in the fourth quarter one free graduation ticket.   
"Renaissance really helped me out last year with all the homework passes, I really liked it," junior Devaney Dougherty said.
A major change that is seen on the new Renaissance card this year is the finals pass. The finals pass is only offered once and students must have applied for the 4.0 card. The finals pass has been apart of the Renaissance card for years except for last year. Last year, the finals pass wasn't on the card as apart of the gold card rewards. This devastated students, however, now it is back to reward those who work hard during finals week. 
"I hope Renaissance will motivate students to try their hardest, especially now that the finals pass is back," Renaissance Coordinator, Lydia Waters said.
"
I really like having the finals pass back this year, it's going to make me actually want to get good grades."
— Sophomore Maddy Winter