What Would You Do If Stuck In A Parallel Universe?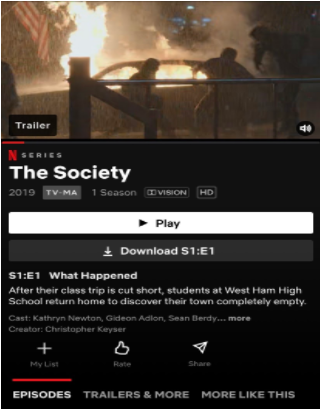 Loading ...
Not recently, Netflix has come out with a new, original creation named "The Society." Although it is rarely taken recognition for, a steady perspective of just having watched the show, would like to change that. Near mid- 2019, The Society was introduced as a Netflix original, taking on the genre of mystery and drama. The show is spectacular at engaging an audience with a desired interest in teen drama or fictional occurrences. 
What would you do if all your hometown was missing after an early arrival on a field trip? Well, imagine how confused a group of high schoolers must've felt when not a soul was anywhere to be found, and soon only each other to rely on. Most, not even of age yet, were battling to figure out the demented situation they were stuck in and survive, instead of finishing highschool and graduating like a normal teen. Knowing their hometown, Westham, had only a limited amount of resources for teens to provide on over a certain duration, senior Cassandra Pressman accompanied with her younger sister, and the most intelligent, form a council to keep the school properly run on food rations and tri weekly work shifts. After many months of relationships destroyed and created, positions and new jobs assigned, most gone well. On Thanksgiving after the school reunites happily to celebrate, the council's best guess shared was that they were all living in another dimension, meaning there is still a place out there with their family's and home.  Highschoolers are determined that soon, they will be able to return home, shortly before conflict stirs up. 
The uncontrollable urge to binge the show will leave you only to be mind blown at the show's storyline, it sure left me in awe. For someone with a strong taste in drama and suspenseful taste, this show was definitely worth finishing in a day. A class of teens, I have to admit, sure handled the situation of being stranded very collectively. Many of us young and immature adolescents could've never managed to control ourselves and others as well as they did, which only made the show seem a little scripted. There are a few confusing details I picked up along the way, such as how numerous teens had almost a year's supply of free electricity and water, if it had been nowhere to be transported from, although I guess it's one of those unquestionable, and rather lucky scenarios. 
What are the thoughts so far of the audience on The Society? It turns out, Netflix will only be leaving season one, after cancellation of the second season during COVID19. Most audiences, including myself, could state our unapproval with this decision, since the last episode of the first season left some huge cliff hangers that are just awful to be paused on. Although we can't do anything about this decision, we are left to ponder the multiple possible outcomes that could've happened, even if the production cast decided to end the show on the most actionful drama.