From marching formations to dancing we welcomed the Kyoto students with a Multicultural Rally. On Oct. 13 students at RHS showed off some different cultures with beautiful dances as a form of cultural exchange
The Kyoto students introduced themselves and their school.They informed everyone at RHS extracurriculars they have, some medalists and requirements in order to graduate. One of those requirements is coming to the U.S and attending a school. 
Once their introductions were done they performed a phenomenal marching formation. One student was giving the others commands and they'd follow. For a formation, they intersected each other which left the crowd in disbelief. The students then wrote RHS students' names on a fan and gave it to them. Senior, Marco Cabello, had the chance to get a fan. 
"Oh my gosh, I was so amazed, I was so happy I was able to get a fan," Cabello stated. "I was just so excited to meet people of a different culture."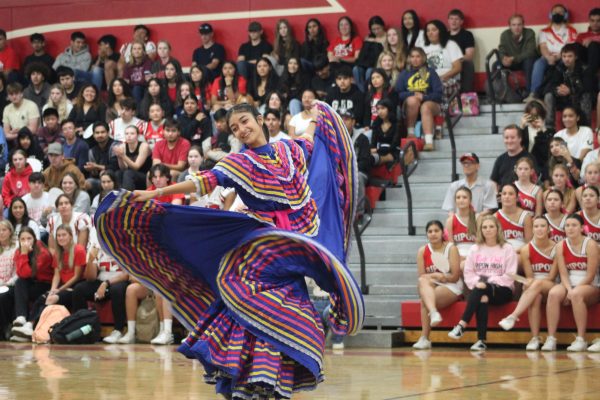 Following their performance some of our very own RHS students performed some dances to show their culture to our visiting students. Senior, Cynthia Medrano and Junior, Xitlaly Reynoso, both danced to a traditional Mexican dance called folklorico. Reynoso and Medrano danced separately but both were amazing. Medrano danced to a song called " El Gusto" and Reynoso danced to " El Son de la Negra."
As soon as Reynoso and Medrano finished their dance, Jeevika Chaudhary and Kamalpreet Kaur, juniors were welcomed onto the dance floor. They performed a traditional folk dance from Punjab called Giddha with a mix of Bhangra. As soon as they started dancing the crowd started to clap along with the music. Everyone enjoyed watching the dancers perform.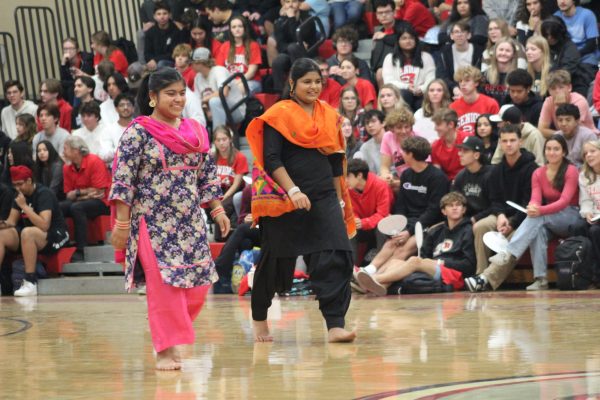 "I think the rally was really exciting. It went really well, we got to see so many different cultures performing their own thing," stated Kaur. "It just made me really happy."
The rally ended with a band and choir performance and a small cheer performance. Band played two songs, one was "Starfire Fanfare"  and the other was "Eternal Father."  Eternal Father is The U.S Navy's Hymn. They played this song to show the Kyoto students some of our nationalism. As the band played " Go Big Red" the cheer team did their sideline dance. To end it, the choir performed Ripon High's Hymn. 
This rally was a success overall and many students seemed to enjoy watching everyone dance, sing and march.