Winter Rally's Comin' to Town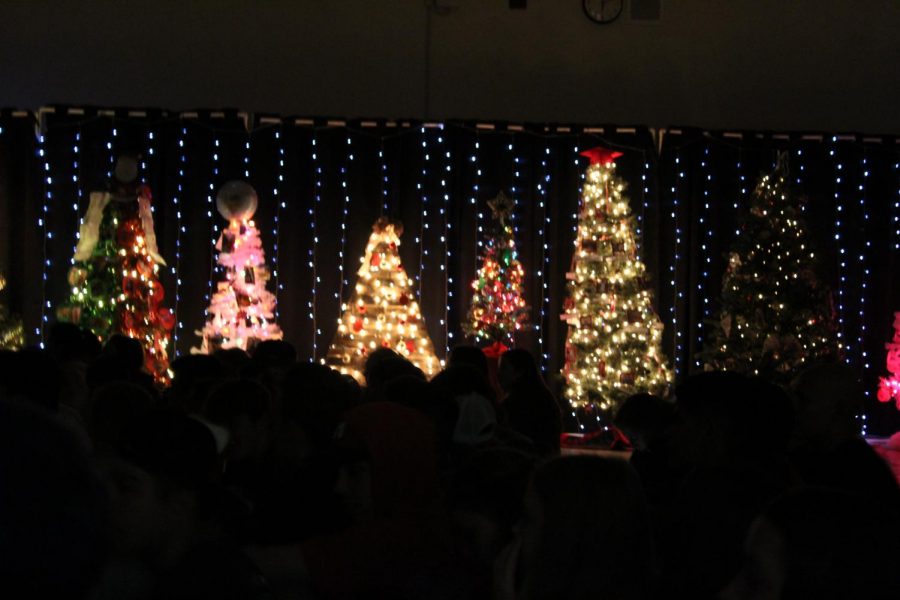 Loading ...

Christmas is around the corner and to kick off the season, Ripon High had it's second annual Christmas Night Rally. There were games and hot chocolate for everyone to enjoy. The festivities included competitions like an ugly sweater contest and a Super Smash Bros war. There was even a competition on which class could make the best Christmas tree.
"The rally differs from all the others because it gets you in the mood for the holidays and it's very festive. The hot cocoa and the candy canes, in the beginning, made everyone excited to see what would happen next."
"

"

I have a lot of fun because it's a smaller amount of people, so the people that do go to the night rally are usually really spirited and they actually want to be there so I have a lot of fun being with my friends and socializing and looking at the trees"

— Kate Villegas

," Junior Kate Villgas stated.
Before the games and activities began, they announced the winner of the Christmas Tree competition. This is where the classes, clubs, and even electives entered in a contest to make the best Christmas tree. FFA was the winner of the competition, with their wooden tree. After the announcement of the winner, there were games and activities to look forward too.
To kick off the rally with a bang, after the Christmas Tree reveal, there was an ugly sweater competition. This is where at least one person from every grade came up and showed off their ugly sweaters. All of the sweaters were festive, but Danny Hernandez took the W and won with his sweater.
"The ugly sweater competition was definitely the most entertaining part," Freshman Keegan Nelson stated.
After the sweater competition was there was a Super Smash Bros dual where one person from every class competed. They had to fight to win the war, and it came close between Freshman Stephan Corro and Sophomore Bryan Ochoa. Bryan Ochoa took the dub after a long battle.
"My favorite thing about the rally was the Smash Bros," Senior Adriana Guzman said.
After the night rally, there was a choir concert hosted by Mr. Felver, the band teacher.
"The choir concert was like super fun and we went after the orchestra, and from the audience's perspective, they said that our concert was really good," Freshman choir participant Brianna Alvarez stated.
The Christmas Night Rally caused many to smile since it was very festive. Everyone that went to this rally enjoyed themselves. The games and activities made everyone laugh and put everyone in the Christmas spirit.