What's Your Favorite App?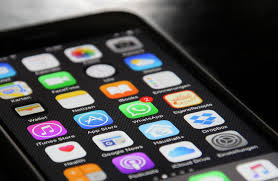 Hang on for a minute...we're trying to find some more stories you might like.
Every day, we use a lot of different apps. Whether it's for entertainment, games, sports, or school, there seems to be an app for just about everything. There are so many apps to use, but which app is the best to have?
"One of the best apps to use is Co-Star because I like to see how I'm supposed to feel throughout the day," sophomore Gabriel Herrera said, "It's also cool to see other people's emotions."
Apps have developed into things that we use for many different things. We may not even realize how useful some of them have become. Whether it's using a calculator app in math class or using a clock app to set an alarm, we use apps constantly. Some people even get their news from different apps to see what's going on around the world.
"I often use Instagram for seeing what's happening around me," student Abby Rangel said, "It's one of the only apps I use on my phone, and I also like to watch funny videos on it."
Recently, SuperFan has been used by many students, staff, and even parents at Ripon High. It's a great way to get people to come to the games, and you can win cool prizes by paying through points you earn by checking into the events.
"I love how SuperFan integrates technology and school spirit so seamlessly! The monthly competitions ensure that everyone can have a chance to win a prize for being Superfan of the month," Herrera stated, "I always get so excited to check into each game, concert, or other school event to earn some points for some great prizes."
Apps themselves can be positive when it comes to things like owning a business. Creating an app can help gain popularity and customers for a store, and you can also do things like keeping track of rewards to keep people coming back. Social media can also have positive effects such as spreading awareness for issues and it can also enhance connectivity between people.
Although some apps can have positive effects, there are also some negative effects. Using our phones too much can lead to addiction, and social media can also cause us to generate a negative self-image.
"
I've noticed that sometimes using specific apps on my phone a lot can have a negative impact, but I think that a lot of them have positive as well. I think it's cool to have such a wide variety of different apps to use."
— Abby Rangel
"I've noticed that sometimes using specific apps on my phone a lot can have a negative impact, but I think that a lot of them have positive as well," Rangel exclaimed., "I think it's cool to have such a wide variety of different apps to use."