Kicking into the season: Boys soccer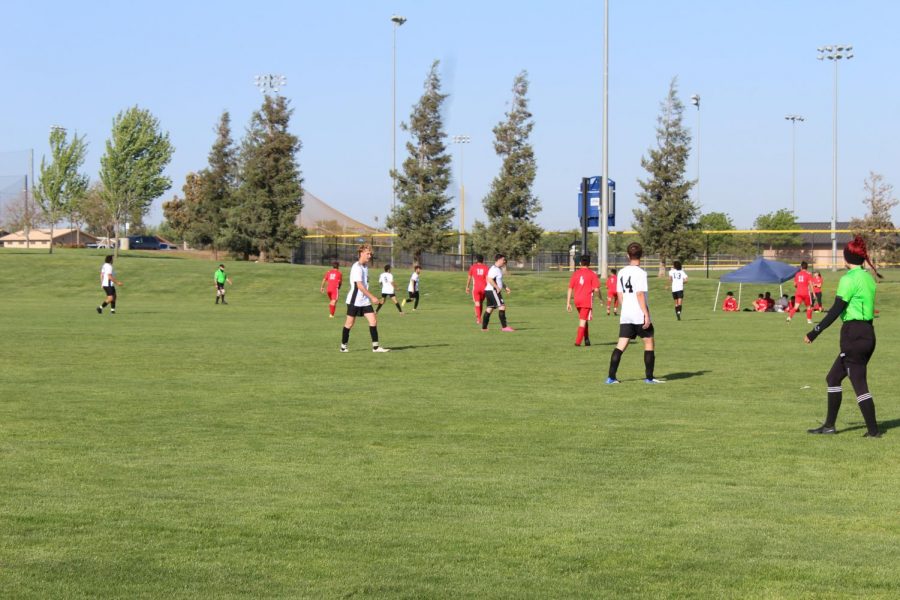 Athletics have been a controversial topic ever since the Covid-19 pandemic began. Just some time ago, the sports available at the high school received  the "OK" to continue on with their 2020-21 season. Boys Soccer season has begun and the players are excited to be back on the field. 
Returning seniors and new freshmen on the team are all excited to be back up and playing for RHS as their season has officially started. From initially thinking that they weren't going to have a season to then finding out they were, everyone was exhilarated to be able to play after all. The first game of their season was on  April 16 against Ripon Christian. Although they didn't receive the outcome they had wanted, it was still a thrilling game.
"
It felt good to be back on the field because high school ball is always fun and I also get a break from Competitive soccer."
— Hayden Beir
Even though the season has begun it differs a lot from previous seasons due to the pandemic. Last year RHS had two teams, both JV and Varsity but because of the lack of returning and new players this year, there is only one team, the Varsity team. This brought a lot of the JV players from last year to have to step up and take some leadership for the Freshman players on the team. It brought so many new experiences for all players as their season ended up being shorter and had less players involved as a whole. 
"We have had a lot of shortages of players which has caused some of us to step up and be leaders to the freshmen on our team. It's a great learning experience," described sophomore Varsity player Sahil Afzal.
The boys still have a long season to go and many more games to come. Although the season was cut short, there is still hope that it will be a good season and a great time to bond for all players.
"At first the season being rushed caught me off guard. Not being able to have a complete season sucks. At the end of the day I'm just glad I'm going to be able to say I at least got to play my senior year," stated Senior Varsity player Hector Gonzalez.

Loading ...