Swim Season is Here!!!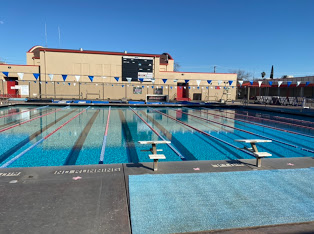 On Friday February 19, Ripon High had its first swim meet against Kimble since the initial quarantine of March of last year. Swimmers were very excited to finally be able to get out and compete again. Although the meet wasn't timed or scored swimmers were still happy to be there. 
The new protocols for swim this year are no parents can watch in the stands, only going up against one team, there are no championships in the end, no times, limited people on the deck, and swimmers have to wear masks on deck. 
In an interview with Hailey Knief, a sophomore at Ripon high, she said "I wish we could have parents cheering in the stands because that's always nice to have that motivation but that's what our teams for, motivation."
It has been difficult for freshmen this year to get used to these new rules and protocols because they haven't ever swam for high school. However, as for upperclassmen, it is easier because they have already swam for the high school before and are used to it. 
Freshman Maddie Stewart stated in an interview "I am glad

Loading ...

we are able to have a swim season in the first place. If abiding by the protocols means we can swim then I think it's okay. But my favorite thing during swimming this year has been learning all of these new skills."

Opening sports have been a challenging debate, however, swim this year has been opened due to where rankings are at. Athletes are very grateful for their sports starting up and they are hoping sports will be able to stay open.

"

I am glad swim is back and we are finally able to do sports!"

— Riley Slikker