Girls Varsity Soccer Ends in Last Second Tie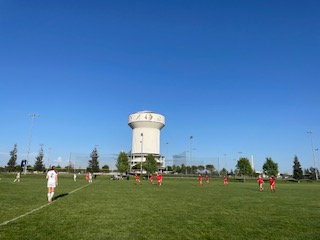 Girls varsity soccer had their first game at Mistlin on Wednesday 21 against Kimball. It was a close game and our Varsity girls put up a good fight, however, the last few minutes Kimball ended with a score abruptly tying the game at 2-2. The Girls Varsity Soccer has started this season off well with an almost win. 
 "I think we had a strong kickoff to our season especially with being down players due to covid. […] I think once we get into the rhythm of playing together as a team and get used to the speed of the game we can definitely do well this season." Kailey Tijero, a senior and captain on the Girls Varsity Soccer team stated.
In the first 15 minutes, Varsity player  Maddy Winter made a great cross to Ariana Scholten, varsity player, who shot it and scored. It was a beautiful first goal. All the girls ran together in excitement to congratulate Ariana on the amazing goal. The second goal was also made by Ariana taking it down the field and shooting by the outside of the box.
"Scoring goals is always a really distinguished feeling, but having your teammates give you good assists to finish the goals makes them so much better! […] My favorite thing about Wednesday's game was when we scored the second goal and took the lead in the game , that was definitely the peak of our performance" Ariana Scholten stated. 

Loading ...
Playing in a new season comes with many challenges. These include factors such as having other sports and it being much hotter in comparison to playing in the winter.  Many girls also have to be quarantined so it is very hard to have enough subs. This also leads to the girls tiring out easier. However, with it being warmer much more people come out to support our lady indians. 
"This season is just so different from last years, because girls on the team have multiple sports they are trying to balance and we are constantly missing girls due to quarantines. […] I know we are gonna have a really fun season and hopefully win a lot of games so I'm super excited!" Maddie Winter, a Junior at Ripon High and a player on the Girls Varsity Team stated.