Track Senior Night 2022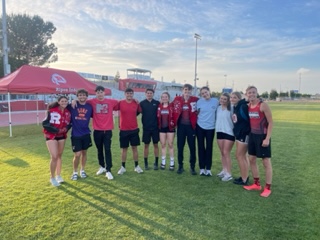 Senior Night is a night to represent and support our seniors of the 2021- 2022 year. It is a way to show how much they matter too much and a good way to send them off for their last high school year. On Wednesday, April 27, the Ripon High Track team hosted a senior night while having a dual meet with Livingston. 

For senior night the coaches put up posters around the snack bar for our seniors. Each poster showed a picture of a specific senior, their name, and what they did in track. They didn't really get any other recognition other than that. Most of the time, a senior night includes a special speech for each senior and the giving of a gift.  The absence of these traditions disappointed the seniors because they expected and deserved so much more.

 "Well, I'm gonna be honest, it was really dry. They didn't even announce us. But senior night was also fun for me because at the end everyone watched my pole vault. I also did well because I PR in the 400 and also got first in my other events, " said Jaden Hamilton, senior.

Other than the disappointment from the lack of decorations for the seniors, they had fun with their friends as they performed their events for track. Every senior has enjoyed their years in track and field and they have all loved becoming better and better throughout the years. They love all the laughs they have had with their friends and all the new relationships that have developed throughout the track years. 

How was senior night for track?

Sorry, there was an error loading this poll.

"My favorite memory was the Hugeston thing vintage meet, freshman year and running the two-mile with Mattie Berry and Abigail Williams," said Lydia Waters, senior. 

Many of the seniors also hope that the incoming freshmen will stick with track and not give up when times get tough. Many of the people on track give up once they start to have a little hard time but the seniors hope that through this time they will grow and become stronger. 

"I would say to not be intimidated by it. Do not think that it's going to be terrible just cuz you're just running around a track. It's a lot more than that. It's like a big family aspect of it. It's a lot of fun. You're gonna try new things if you're gonna grow a lot during the season," said Anthony Sausedo, senior.