Colorguard Continuation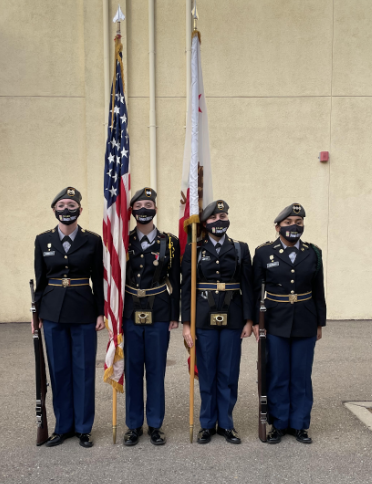 As the end of the year dwindles down and we all start to shift focus onto next year's activities and classes, we all start to look around and what we're going to be interested in. One option you have, if you happen to be part of the JROTC program, is Drill (0 period). Drill is condensed into 2 categories, regulation and exhibition. Each cadet is on both. Within the two categories, there are separate teams. Under the exhibition specifically, there is one called Color Guard. You know, the one you see doing the National Anthem during football games and such carrying rifles and flags.
Next year's color guard team is currently looking very small, so Drill is looking to hype up the Colorguard team and recruit people to join! If you're already applied for Drill for the 2022-2023 school year, you will hear more about this next year. If you are not, then you can head down to your Academic Counselor and get it added to your schedule. 
If you're still not sure of whether to join or not, let's hear some wise words from next year's Colorguard Commanders and Colonel. 
"I guess the best way I could explain is it is a way of honoring our country and our flag and it is a skill that is very difficult to learn and to perfect because that's what you're looking for is perfection. Getting four people moving as one unit is not easy." said Dr. Col. David Schmith. 
"It's definitely really good for getting to know people and not only that but, it allows you to participate in a lot of events. […] There's a lot of recognition that comes from it being the town's high school JROTC program. […]We get to do graduation and we have our annual award ceremony and there's a lot of events we do throughout the year, more than I hear most other programs doing at least." said Mackenzie Perry, next year's Varsity Color Guard Commander and Battalion Executive Officer.
"If you want to go past the regular kind of army regulation and with rifle and flag movements and generally put more work in to really to being more precise and pristine, than Colorguard is the way to go for sure." said Gabriel Peral, next year's JV Color Guard Commander and Battalion S-3.